I don't recall the source of this quote, but it was in one of my old cookbooks, and I have many. The quote was this, "Life is like a cookbook as each day offers a new recipe." I tend to agree.
I also believe that food and friendship intermingle. I can't think of many gatherings that do not include some kind of food. And think of the holidays and the food that immediately comes to mind, like turkey and pumpkin pie for Thanksgiving, corned beef and cabbage on St. Patrick's Day, ham for Easter, and hotdogs grilled on the 4th of July.
Those gatherings always include family and friends.
Many of us learned to cook by watching and helping our mothers and grandmothers in the kitchen. I know I learned many things from both of those women. Later on, after I married, I also learned from friends, just by sharing recipes and talking about food preparation and cooking experiences.
Some of us use recipes as a guide to get our creative juices flowing, while others need to follow the recipe exactly as written. Either way, cooking can add so much pleasure to daily life. There's nothing like hearing the words, "this is so delicious, will you share the recipe?" Of course, if you are creative and have tweaked a recipe, you need to write it down; otherwise, you might not be able to "create" it again!
Since we will be celebrating Easter on April 4, I've been researching ham recipes and found this one in Bert Greene's Kitchen, compiled by Phillip Stephen Schulz and published in 1993. Cheers!
——
Red-Eyed Baked Ham
The recipe is titled Red-Eyed Baked Ham, and the story goes that the dish originated over 150 years ago in the Klondike where the miners, living in lean-to's or tents without kitchens, survived on a diet of smoked meat. A most enterprising gold digger, it is recorded, threw a spot of bourbon into his fry pan by accident one morning. When it caught fire—as alcohol is prone to do—he put out the flames with a cup of coffee. Thus one of the best boozy recipes of American cookery was created.
Smoked ham is sometimes on the salty side. If you think your ham is too salty, give it a fast bath in boiling water for about 15 minutes. Drain it and cool it and dot it with whole cloves.
Ingredients:
1 smoked ham (about 7 ½ pounds)
Whole cloves
1 clove garlic, crushed
¼ cup Dijon mustard
2/3 cup (packed) dark brown sugar
1 cup strong brewed coffee
½ cup bourbon
¼ cup heavy or whipping cream
Directions:
Preheat oven to 350 degrees. Remove the heavy skin from the ham. Using a sharp knife, score the top of the ham in a diamond pattern and insert a clove at each intersection. Place the ham on a rack in a roasting pan. Combine the garlic, mustard, and brown sugar in a small bowl; blend well. Smear the mixture over the top and sides of the ham, and let it stand at room temperature for 30 minutes. Combine the coffee, bourbon, and cream in a medium-size bowl. Bake the ham for 1½ hours, basting every 10 minutes with the coffee-bourbon mixture. Serve the ham warm or at room temperature.
——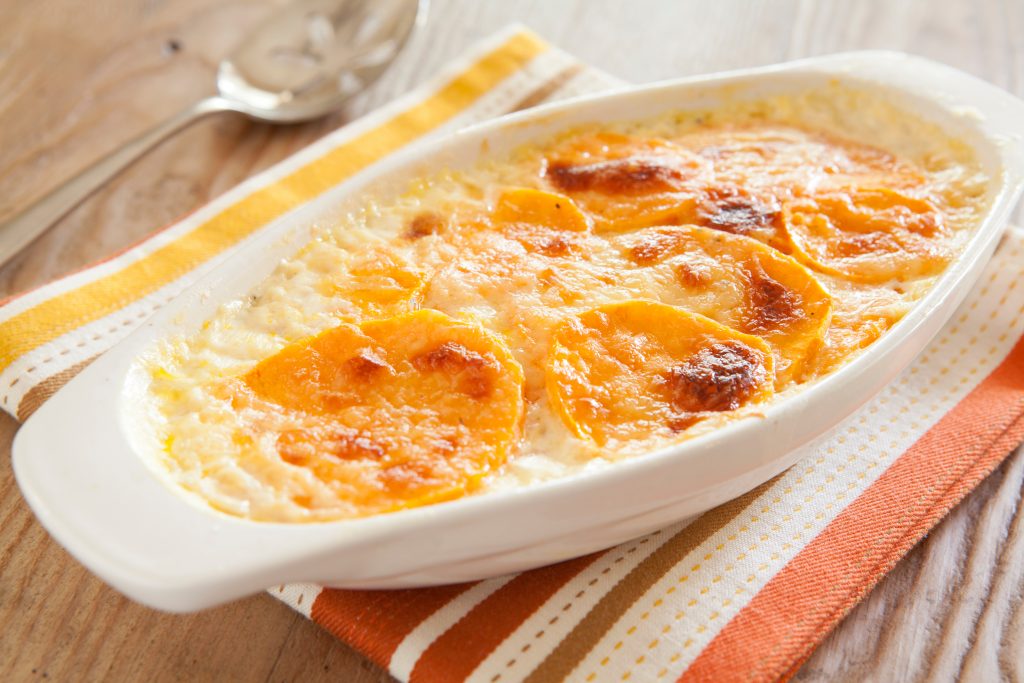 Mustard Potatoes Au Gratin
Consider serving your Easter ham with this recipe for potatoes.
Ingredients:
1/3 cup finely chopped green onions
3 tablespoons butter, divided
2 cups whipping cream
½ cup Dijon mustard
1 cup (4 ounces) shredded Swiss or Gruyere cheese, divided
8 medium potatoes, peeled and thinly sliced
Directions:
Preheat oven to 400 degrees. In a small saucepan, cook onions in 1 tablespoon butter for 2 minutes or until tender. Stir in cream, mustard, and remaining butter. Bring to a boil. Reduce heat; simmer, uncovered, for 5 minutes. Reduce heat to low; stir in half of the cheese until melted. Remove from heat. In a greased shallow 2-1/2-quart baking dish, layer a third of the potatoes; top with a third of the sauce. Repeat layers twice; sprinkle with remaining cheese. Bake uncovered at 400 degrees for 30 minutes. Cover and bake 25-30 minutes longer or until potatoes are tender. Let stand for 5 minutes before serving. Serves 12.
——