Welcome the first day of summer on June 20. On that same day, we will celebrate Father's Day. It's a time for Bar-b-ques, picnics in the park, and simple patio dining. No matter the style you choose, you will want to end the gathering with something "cool."
This recipe for Chocolate Mint Sundaes is remarkably easy but is still elegantly flavored and wonderful for a hot summer's night. You can make the mint-scented chocolate sauce up to a week ahead of time.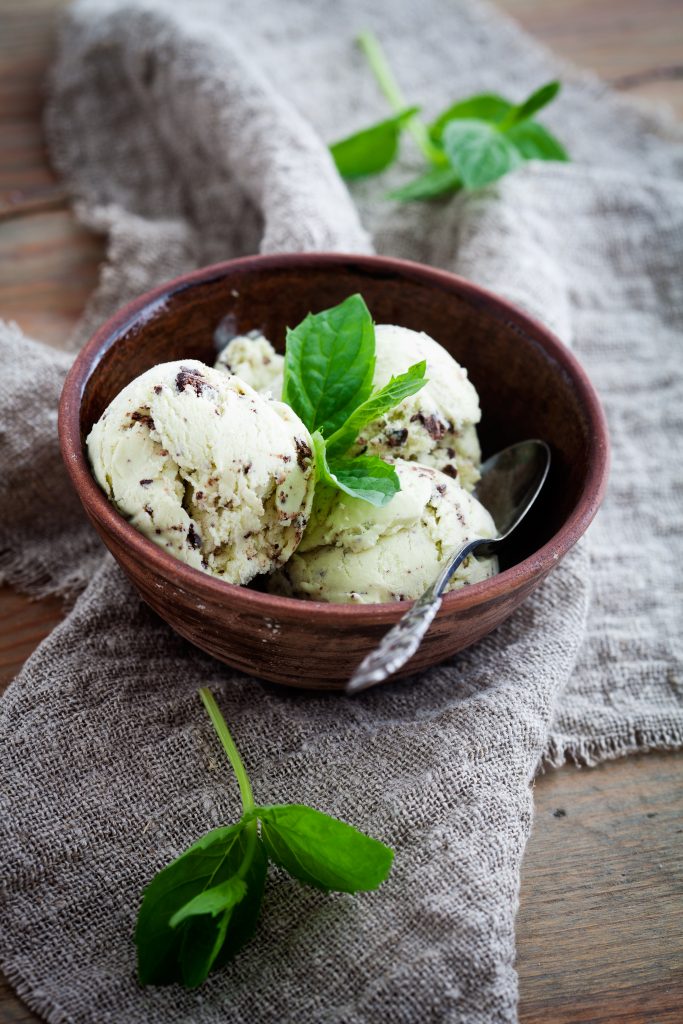 Chocolate Mint Sundaes
Ingredients:
1 cup water
1 cup sugar
½ cup thinly sliced fresh mint leaves
2/3 cup unsweetened cocoa powder
4 Tbs (½ stick) unsalted butter, room temperature
Mint chocolate chip ice cream
Fresh mint sprigs
Directions:
Stir 1 cup water and sugar in heavy small saucepan over medium heat until sugar dissolves; bring syrup to boil. Remove from heat. Stir in thinly sliced fresh mint leaves. Let stand 1 hour. Using a slotted spoon, remove mint leaves from syrup. Whisk cocoa into syrup. Bring to boil. Add butter and whisk until smooth. Refrigerate sauce uncovered until cold. (Can be made 1 week ahead. Cover and keep refrigerated.
To serve, place 2 scoops of the ice cream in 6 bowls. Drizzle the sundaes with sauce and garnish with fresh mint sprigs. Makes 6 servings.
——
This next recipe teams up lemon and lime with ginger in a cooling sorbet. It makes a light ending for a heavier meal, especially those famous barbecues we have here in the North County.
Fresh Ginger & Citrus Sorbet
Ingredients:
5 cups water
2 cups sugar
3 Tbs finely chopped peeled fresh ginger
2 tsp finely grated lemon peel
2 tsp finely grated lime peel
3 Tbs fresh lemon juice
3 Tbs fresh lime juice
Fresh mint sprigs
Directions:
Combine 5 cups water, sugar, and ginger in a heavy large saucepan. Bring to boil, stirring until sugar dissolves. Reduce heat and simmer 10 minutes. Strain into a large bowl; discard solids. Return liquid to same saucepan. Add lemon and lime peels. Boil 2 minutes. Remove from heat. Whisk in lemon and lime juices. Cool completely. Pour mixture into 9 x 13 x 2-inch glass baking dish. Cover and freeze until solid, about 6 hours or overnight. Transfer mixture to processor and puree until smooth. Return to same glass dish; cover and freeze until solid, at least 3 hours or overnight. (Can be prepared 3 days ahead. Keep frozen.) Scoop sorbet into glasses or bowls. Garnish with fresh mint sprigs. Makes 8 servings.
——
Now, for the Dads in your family, consider this next recipe for sirloin strips. Let Dad sit and enjoy a "glass of brew" while someone else does the grilling. Serve with a potato side dish and a fresh green salad. Don't forget some grilled sourdough bread. End the meal with one of the dessert recipes included above, and Dad will be a happy man!
Tangy Sirloin Strips
Ingredients:
¼ cup vegetable oil
2 Tbs Worcestershire sauce
1 clove garlic, minced
½ tsp onion powder
½ tsp salt
¼ tbs pepper
1 lbs boneless sirloin steak (1" thick)
4 bacon strips
Lemon-pepper seasoning
Glaze
Ingredients:
½ cup barbecue sauce
½ cup steak sauce
½ cup honey
1 Tbs molasses
Directions:
In a large resealable bag, combine the first six ingredients. Cut steak into four wide strips; add to the marinade. Seal bag and turn to coat; refrigerate for 2-3 hours or overnight, turning once. Drain and discard marinade. Wrap a bacon strip around each steak piece; secure with a toothpick. Sprinkle with lemon pepper—coat grill rack with nonstick cooking spray before starting the grill. Grill steak, covered, over medium-low heat for 10-15 minutes, turning occasionally, until meat reaches desired doneness (for rare, a meat thermometer should read 140 degrees; medium, 160 degrees; well-done, 170 degrees). Combine the glaze ingredients; brush over steak. Grill until glaze is heated. Discard toothpicks. Serves 4.