By NEIL FARRELL
A long-time Morro Bay Police officer has been promoted, replacing an officer who was hired on with the County Sheriff's Department.
Senior Officer Robert Hufstetler became Sergeant Hufstetler in January, settling into a supervisory role after over 20 years with MBPD.
Sgt. Hufstetler started in law enforcement at the Moreno Valley P.D. in 1994, according to MBPD Cmdr. Amy Watkins. There he worked with their Gang Unit and Graffiti Patrol.
He came to Morro Bay in 1998 as a sworn officer working mostly in traffic enforcement. Sgt. Hufstetler is "currently our longest-tenured officer," said Cmdr. Watkins.
"Rob was an original member of the P.D.'s Motor Unit," Cmdr. Watkins said, "when it started back in 2001." The use of motorcycles for traffic patrols was defunded in 2005 due to the City Council's budget deficit.
In 2016, the department re-started the Motor Unit and put electric motorcycles in service. Sgt. Hufstetler "continues to serve as a Motor Officer, trainer and as our Traffic Supervisor," Cmdr. Watkins said.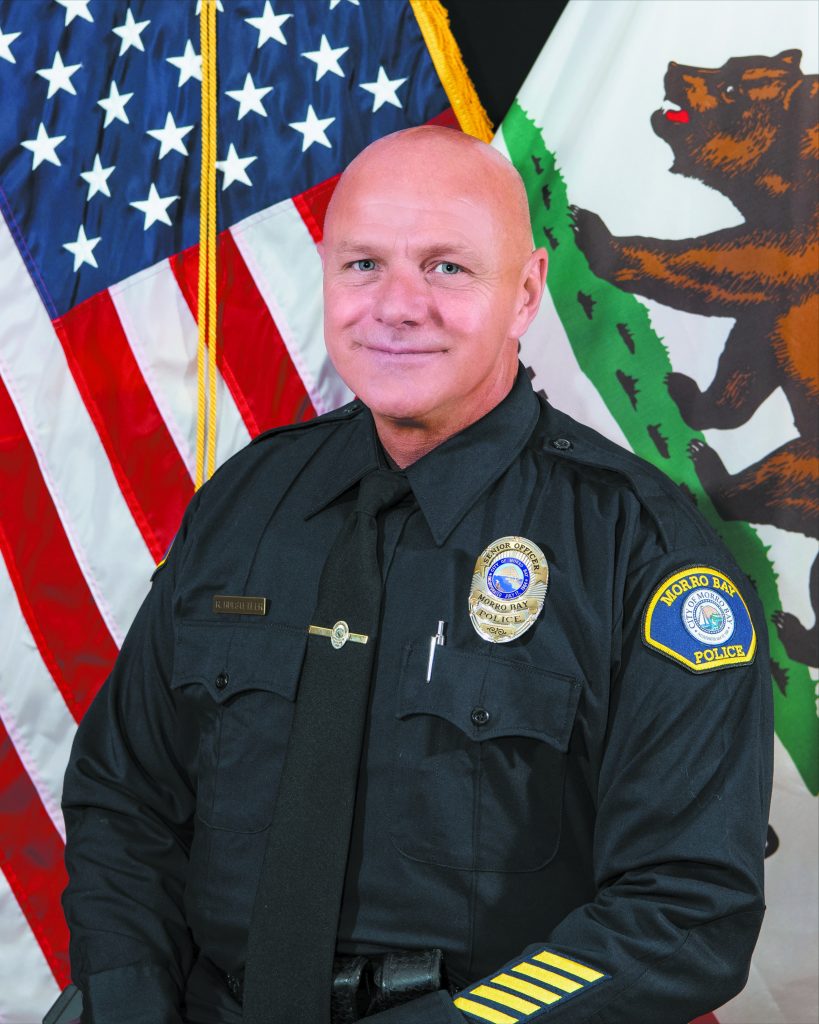 In his long tenure, Sgt. Hufstetler has worked as the department's range master, senior officer, field training officer "and has served as a watch commander and acting sergeant throughout his career."
"There is no doubt that he is well qualified and capable of handling the role as a patrol sergeant," she added.
Sgt. Hufstetler replaces former-Sgt. Jerrod Place, who was promoted last March to replaced the retired Sgt. Rick Catlett. Place is now Deputy Place after he was hired on with the County Sheriff's Department.
As with several MBPD officers in the past, the pay scale and opportunities for advancement and specialized police work, which the Sheriff's Department can offer, was an enticement.
"A Sheriff deputy makes enough for a sergeant to leave our position," Cmdr. Watkins said.
So once again, MBPD brings people in, trains them, and after a few years, loses them to bigger departments with better pay and more opportunities. The Sheriff's Department has numerous divisions, including corrections, courtroom security, homicide, gang and drug units, and even SWAT.
The department had been holding open one officer position after the City Council froze hiring in the face of the Coronavirus Pandemic and the resulting budget crisis that befell the City in 2019-20 with the closure of much of the local economy.
With the 2020-21 fiscal year halfway over, Cmdr. Watkins said they got to go-ahead to fill that position with the mid-year budget review.
Ofc. Luis Martinez, formerly with Lompoc Police Department, was sworn in in early January to fill one of the two open positions.