MORRO BAY — It's one of Morro Bay's treasures, and now the Maritime Museum is part of the worldwide treasure hunting phenomenon of "Geocaching."
Scott Landers, who lives in South County, delivered a former Mustang Daily newspaper rack to the Maritime Museum on Jul. 14, part of the process of setting up the museum to be part of the "Adventure Lab" geocache experience, adding the museum to a treasure hunt for geeks the world over.
"We looked at it as a way of getting people to come here," said Scott Mather, Maritime Museum Association president, "by hiding a prize."
Landers said he has been setting up sites up and down Hwy 1 as a special project and hobby and has about 20 now (see adventurelab.page.link/CfxP).
Mather described it as a game that's free, with paid versions too, that uses cell phones and GPS to locate little containers set up all over the world.
Such containers can be as small as a jar or large, like the news rack. They can even be situational, in that someone follows clues to a particular location for a selfie, which is what Landers said he's done at Hearst Castle.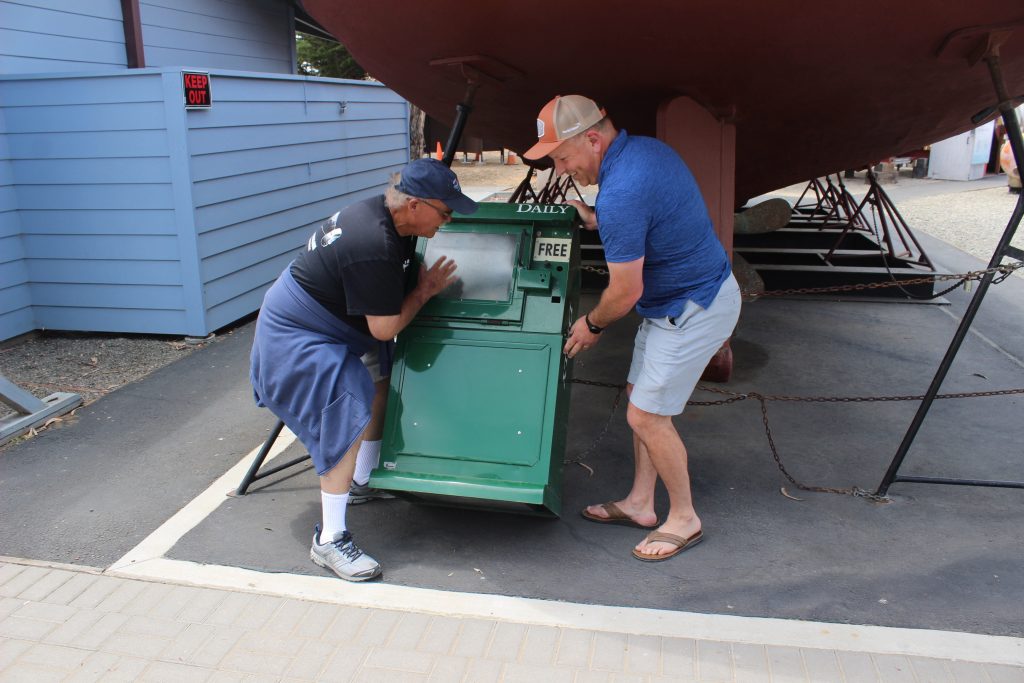 At that geocache, he said, you follow clues to a certain statue in the castle gardens for a selfie. Landers said that worldwide there are millions of such sites and thousands in SLO County. And there are already dozens in the Estero Bay Area communities, too, including Morro Bay's waterfront.
Landers has 20 sites, and "Somebody finds one of my 20 every week," he explained.
There are rules, such as geocaches aren't supposed to be hidden in a way that requires digging or upsetting the environment.
And they're supposed to be at least a tenth of a mile apart from each other, which could prove problematic with the museum, as the nearest site is across the Embarcadero at "Nick's Bench," the bronzed, Ford truck seat made from the actual seat of the late-Nick Howell's old, beat-up work truck that plied the waterfront for decades, as Howell, a diesel mechanic, worked on fishing boats.
The sites are also not supposed to be advertising, and it's preferred they be outdoors and accessible because apparently, GPS treasure hunting happens round the clock.
Landers said he's set up the Highway 1 Adventure Lab sites as a family activity that would help parents get their kids out of the house for some fun and adventure.
Businesses can benefit because it brings them literally to their front doors.
Mather said the site will help the museum "to reach a whole new demographic" of visitors. He added that while adults and especially older folks can appreciate the museum's exhibits for their historical value, kids have a harder time enjoying the static exhibits. And that doesn't mesh with one of the museum's tenets—to educate the public on Morro Bay's maritime history.
And most sites have a prize for when they are discovered. It might be a small toy or souvenir, and Landers said they discourage putting candy or any foodstuffs in them to avoid ants and critters raiding the treasure troves.
"It's supposed to be a trade situation," he said. Mather said they might put souvenir coins in the museum's geocache, which is set up at the Tugboat Alma exhibit.
"Geocaching," reads a definition from Google, "is a real-world, outdoor treasure hunting game using GPS-enabled devices. Participants navigate to a specific set of GPS coordinates and then attempt to find the geocache [container] hidden at that location." When it's found, hunters "sign the logbook and return the geocache to its original location."
It all started May 3, 2000, in Beaverton, Ore., and has been described as a "game of hide and seek."
As for the Adventure Labs, they are apparently a bit different. "Adventure Lab is a new app and platform in development from the team at Geocaching HQ," reads a notice on their website, "that allows you to create, play and share unique outdoor scavenger hunts, experiences, and games. There are currently over 20,000 public Adventures available worldwide."
The Adventure Labs are relatively new, and so there are only a handful of experienced geocachers that are allowed to set up sites, Landers among them. "Unlike traditional geocaching, Adventures do not require a physical container and can be located indoors. The Adventure Lab app expands the boundaries of traditional geocaching into new spaces and experiences while introducing innovative and fresh ideas that make exploring even more fun."
And with Adventure Labs, the geocache sites can be public or private.