Bryan Way enjoys his teaching career in Cayucos and celebrates almost 20 years of owning his American Karate School
By Blake Ashley Frino-Gerl
Finding something that inspires you at a young age and possibly staying with you forever does not happen for everyone. However, for Bryan Way it did. Having grown up in Simi Valley, Way moved to Templeton at 12 years old and has lived in the area ever since.
It was at that age that he started his karate journey and "instantly fell in love with the sport." One of his karate teachers said he was like a "sponge" and he enjoyed it so much that he went to as many classes as he could. Way says that some things made him nervous, especially since he was one of the smaller students, but nothing could stop him from loving it, and "it was the sport that 'clicked' for me," he says.
Once Way earned his black belt at 15 years old while attending Templeton High School, began teaching martial arts with his sensei, and even got paid.
"I realized I could make money doing something I loved to do," he says. "From there, he showed me the ropes, and we saw an opportunity to start a school in Morro Bay. My sensei had me run the show, and I have had my school ever since."
He started American Karate School in 2004, renting the group fitness room inside FitnessWorks, and then moved nearby to his current location in 2006.
He got his associate degree at Cuesta College before earning his bachelor's in liberal arts from the University of La Verne and a teaching credential from Brandman University. He decided to further a career in teaching, particularly physical education, after speaking to his college counselor and figuring out that he "enjoy[s] sports, working with kids, and being outside." During that time he was also given opportunities to teach self-defense in public schools in part with their P.E. program in 2008. "I was hooked," he says.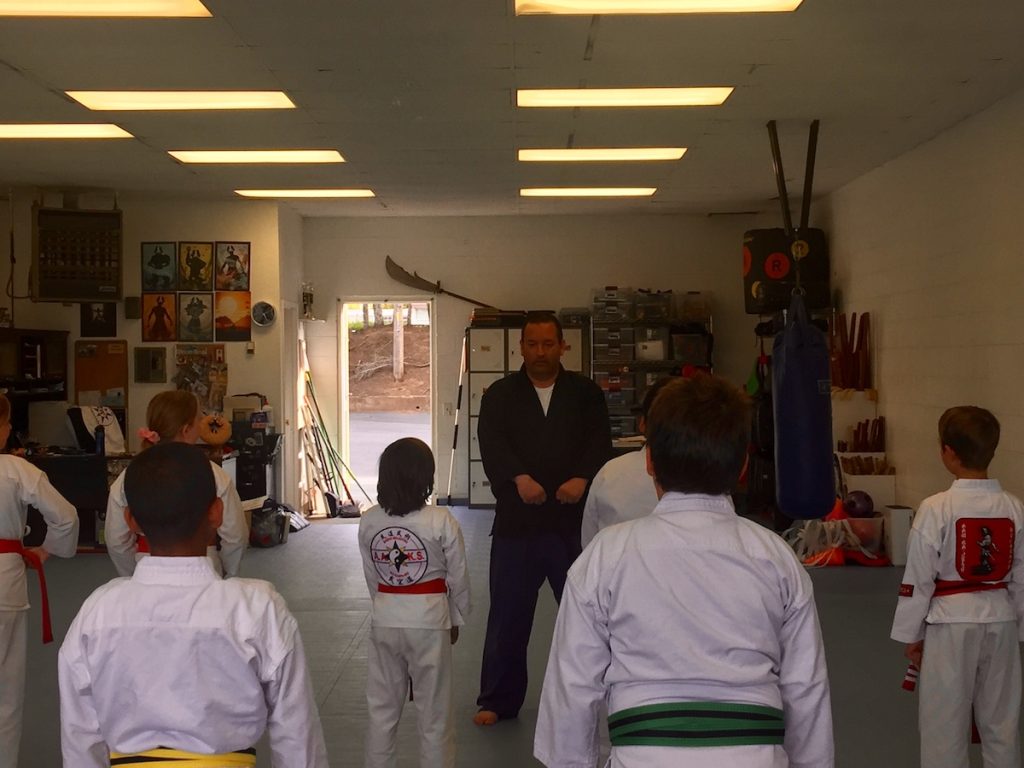 He began substitute teaching in 2012, often for his former and influential high school science teachers, and decided to pursue teaching science. He taught at Almond Acres Charter Academy for one year and then was hired by Cayucos Elementary in 2019 to teach science and P.E.
Every day after teaching at the school in Cayucos, Way goes to the karate school and teaches there through the evening. Long workdays, and sometimes on Saturdays, if there is a karate event, he maintains his inspiration. His enthusiasm soars in his karate classes, and while there is much structure and focus, he provides a bit of comic relief for both the students (and parents watching).
"As cliche as it sounds, what keeps me motivated is my love of the sport and the students. Karate for me as a kid was a safe space. I always loved to go, I made amazing friends, and I always wanted my school to be that place for others," he says. "Passing on what I've learned to others and celebrating this sport are the biggest motivators. On another note; the school makes money which helps me out in life."
Way also holds meaningful events annually, such as Girl's Day, in which he invites a female black belt to teach an empowering class to his female students; Parent's Day, where students can teach their parent's what they know; and Kick-A-Thon, in which students show their talents and raise funds to help Project Surf Camp.
Celebrating Way's upcoming 20th anniversary as a business owner, he said he is "mind blown that a dream as a kid turned into what I have." For teaching, he wants to accomplish a lot of goals "and right now it's just to be the best teacher I can be." While enjoying his two careers, he and his wife "are just enjoying life together and who knows what the future might bring."