MORRO BAY — The Morro Bay City Manager has filled one of two open department head positions, reaching into the Ivy League via Paso Robles to fill one of those positions.
City Manager Scott Collins announced on May 19 that he hired Sarah Johnson-Rios to become the City's new "Assistant City Manager/Administrative Services Director." That filled the position that underwent a makeover after Jennifer Callaway left the City for the town manager's job in Truckee, Calif., last October.
Four days after Callaway left, Collins hired former San Luis Obispo City Manager, Katie Lichtig, who had recently retired from the City of Santa Monica, where she was the Assistant City Manager/Chief Operating Officer.
Lichtig was hired on an interim basis and has been the lead person putting together the mid-year budget review and the Draft 2021/22 City Budget, which was released to the public in mid-May and will be reviewed and adopted in June before the July 1 start of the new fiscal year.
Lichtig's temp contract, at $67 an hour, was for November 2020 to November 2021; however, it looks to be ending early now that the position was filled.
Johnson-Rios has some 13 years of city government experience and is well educated. Most recently, she was the Assistant City Manager for the City of Paso Robles for the past two years, according to Collins' news release on her hiring.
"Prior to that, she served as a housing administrator for the City of Raleigh, N.C., and Public Works Administrative Services Officer for the City of Santa Monica," Collins said. Johnson-Rios was a Fulbright Scholar, received a Bachelor's Degree from Emory University, and earned a Masters of Public Administration Degree from Princeton University.
Johnson-Rios, Collins said, was selected out of some 30 applicants for what is a new position for the City of Morro Bay.
"The position will oversee finance," the release said, "communications, and information technology; assist the City Manager in moving forward City Council strategic initiatives; and support other critical internal functions such as human resources and risk management."
This new job description was approved by the City Council last fall as the search for Callaway's permanent replacement was getting underway.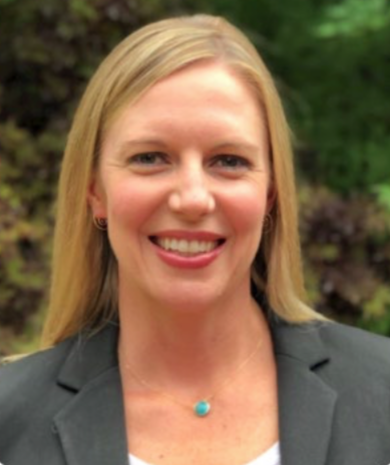 Sarah Johnson-Rios has been hired as the new Assistant City Manager/Administrative Services Director for the City of Morro Bay and will come aboard in late June. She replaces Jennifer Callaway, who left Morro Bay for the job as town manager for Truckee, Calif., last October. Photo courtesy City of Morro Bay
According to Collins, Johnson-Rios went through a rigorous interview process, which included interviews with a community panel, a panel of City Managers, a written assignment, and interviews with City staff.
"I am excited for Ms. Johnson-Rios to join the City team in this critical role," said Collins. "The Assistant City Manager/Administrative Services Director will lead a wide range of important City functions, including serving as the Chief Financial Officer. We needed a well-rounded leader for this role, and Sarah is an excellent fit."
The various jobs she's held apparently made the difference in getting hired.
"She brings a rare depth and breadth of experience across multiple disciplines to Morro Bay," Collins added. "Sarah demonstrated through the rigorous selection process that she has a wealth of knowledge regarding municipal operations and policies. She will be a tremendous asset to our City and community, helping lead the organization towards a bright future. We can't wait for her to get started!"
Johnson-Rios is excited about the new job.
"I am thrilled to have the opportunity to serve the community of Morro Bay in this exciting new role overseeing both administrative services and advancing broader strategic priorities for the City," Johnson-Rios said. "I look forward to contributing my experience to the team's collective efforts to achieve Council's goals of fiscal sustainability, effective communications, improved infrastructure, and land use and affordable housing progress."
She and her family have apparently spent a lot of time in Morro Bay, no doubt seeking relief from the blazing Paso Robles summer heat. "The chance to serve a wonderful community where my family already enjoys spending much of our leisure time makes me especially grateful for this role," she said.
Johnson-Rios' first day at City Hall is in "late June 2021." Her annual salary is $149,500 plus the standard benefits package all City Employees get.
Collins also recently hired Greg Kwolek to be the Public Works Director and can now turn his attention full time to find a new fire chief, after Chief Steve Knuckles announced his retirement last month but stayed on as interim chief until July when he's got to step down under the retirement rules. The search for a new fire chief is underway now.
Johnson-Rios comes in with the lessening of the Coronavirus Pandemic response that included stay-at-home orders from the Governor, closures and severe restrictions on "non-essential" businesses, and a forced slowdown of tourism, as the pandemic was grabbing hold of the State and the Nation, indeed the whole world, is in near-full retreat.
Callaway and Collins spearheaded the City's response to an anticipated drop in tax revenues, as the main economic engines in town — motels and restaurants — were restricted. But thanks in part to a hot summer with smoke-filled Central Valley skies from massive Sierra Nevada wildfires, tourism didn't skip much of a beat last summer. At times, weekdays were packed with visitors, as if a holiday weekend.
The City spent much of its general fund reserves to keep the City's essential functions — maintenance, police, and fire at full funding, laying off over 70 employees — primarily part-time workers in the Recreation Department — to bring down costs.
The City did get a 1 percent local sales tax approved by voters last November (estimated to bring in $2 million a year), and the two licensed marijuana dispensaries are now open to collect a 5 percent pot tax (estimated to bring in about $475,000 a year), as well as some federal COVID relief monies coming via SLO County.
So, in the end, the City would appear to have weathered the worst of the COVID storm and, with the new tax sources now in place, could be expected to soon be on solid financial footing once again moving forward.