MORRO BAY — Eckerd Connects, operator of America's Job Center of California, and Morro Bay Chamber of Commerce are teaming up to help solve a national problem facing local businesses; many jobs and few job seekers.
Morro Bay is back, and establishments are ramping up for the high tourism season but experiencing difficulty finding employees. This is despite offering more money and expanded to fill open positions. On Thursday, May 20, from 2 p.m. to 4 p.m., over 30 merchants will be open and accepting resumes directly from job seekers. Participating businesses located on the Embarcadero, in Downtown, on Quintana Road, and in North Morro Bay will have a 'We're Hiring' sign in their window and will be ready to provide on-the-spot interviews to job seekers.
Eckerd Connects and Morro Bay Chamber have been partnered on workforce development issues for years. Allison Schiavo, Area Manager of Eckerd Connects, saw a similar program executed in another California city and initiated contact with the Chamber on the idea.
"With our vast database of job seekers and knowledge of Morro Bay employers' issues with hiring, this felt like the right fit to prototype this program in SLO County," said Schiavo.
Erica Crawford, President/CEO of the Chamber, jumped at the opportunity to solve a problem that is being felt on the ground in Morro Bay.
"Lack of local labor is the number one issue that our members are reporting as a barrier from fully reopening," says Crawford.
People of all ages and backgrounds who are seeking employment should come prepared with resumes, dressed professionally, and be ready for a possible on-the-spot interview. Imagine landing your next great job in beautiful Morro Bay, then come prepared to the Merchant Job Fair on May 20 from 2 p.m. to 4 p.m.
Job seekers needing support to prepare for the Job Fair can access resume writing and printing support, interviewing assistance, and guidance on how to make great first impressions during COVID at their center: 3450 Broad Street, Suite 103 in San Luis Obispo.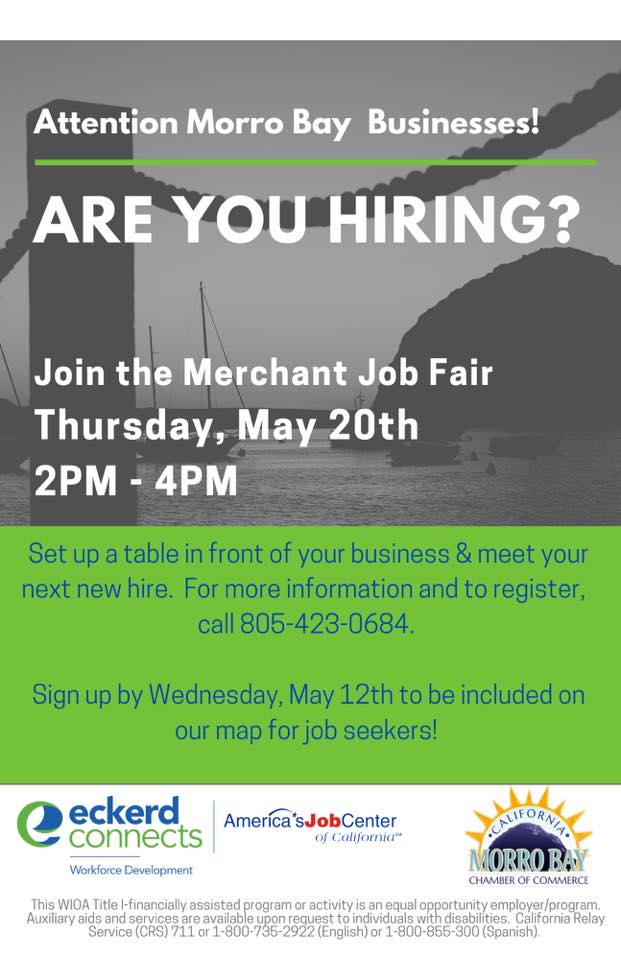 About Eckerd Connects
Eckerd Connects, operator of America's Job Center of California serving San Luis Obispo County, offers no-cost workforce development services, including paid job skills training, work readiness support, subsidized employment opportunities, and services to help businesses hire and retain employees.
About Morro Bay Chamber of Commerce
The Morro Bay Chamber of Commerce is a 501(c)(6) non-profit established in 1956 to promote a local economy of opportunity. Today our Chamber fulfills its mission by connecting business peers to one another, to local leaders, and to community champions. To learn more, visit morrochamber.org, or call us at (805)772.4467.